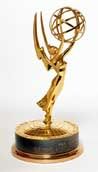 Anoche se entregaron los premios Emmy. Como siempre, hay ganadores, sorpresas, y despedidas que saben a poco, y os hacemos un pequeño resumen de lo acontecido en la ceremonia de entrega de los galardones.
La gran triunfadora de la noche fue sin duda Juego de Tronos (muchos pensarán, ¡Por fin!). La serie de HBO ha logrado hacerse con los premios a Mejor Drama, Mejor Actor de Reparto (Peter Dinklage), Mejor Guión (Mother's Mercy por David Benioff y D.B. Weiss) y Mejor Dirección (David Nutter por Mother's Mercy). Mad Men en su despedida, solo logró hacerse con el Emmy al Mejor Actor de Drama, para un merecidísimo Jon Hamm, actor que ha encarnado a Don Draper en la siete temporadas que ha durado el drama de AMC.
Viola Davis ha logrado el galardón de Mejor Actriz de Drama por How to get away with murder. En su discurso ha querido hablar sobre los papeles de mujeres negras en la ficción televisiva, siendo bastante clara "No se puede ganar un Emmy si no hay papeles". Veep ha logrado hacerse con dos galardones, uno para Julia Louis-Dreyfus y otro como Mejor Comedia, desvancando así a Modern Family. Otro nombre de la noche fue el de Amy Schumer, que ha logrado hacerse un hueco en los premiados. Su programa de sketches Inside Amy Schumer se ha hecho con el galardón a Mejor Programa de Sketches y Variedades, ganando a la todopoderosa Saturday Night Live.
Tras el salto os dejamos con la lista completa de ganadores.
MEJOR DRAMA
Better Call Saul
Downton Abbey
Game of Thrones
Homeland
House of Cards
Mad Men
Orange Is the New Black
MEJOR ACTOR DE DRAMA
Kyle Chandler, Bloodline
Jeff Daniels, The Newsroom
Jon Hamm, Mad Men
Bob Odenkirk, Better Call Saul
Liev Schreiber, Ray Donovan
Kevin Spacey, House of Cards
MEJOR ACTRIZ DE DRAMA
Claire Danes, Homeland
Viola Davis, How to Get Away With Murder
Taraji P. Henson, Empire
Tatiana Maslany, Orphan Black
Elisabeth Moss, Mad Men
Robin Wright, House of Cards
MEJOR ACTRIZ DE REPARTO DE DRAMA
Joanne Froggatt, Downton Abbey
Lena Headey, Game of Thrones
Emilia Clarke, Game of Thrones
Christina Hendricks, Mad Men
Uzo Aduba, Orange Is the New Black
Christine Baranski, The Good Wife
MEJOR ACTOR DE REPARTO DE DRAMA
Jonathan Banks, Better Call Saul
Ben Mendelsohn, Bloodline
Jim Carter, Downton Abbey
Peter Dinklage, Game of Thrones
Michael Kelly, House of Cards
Alan Cumming, The Good Wife
MEJOR ACTRIZ INVITADA EN UN DRAMA
Diana Rigg, Game of Thrones
Rachel Brosnahan, House of Cards
Cicely Tyson, How to Get Away With Murder
Allison Janney, Masters of Sex
Khandi Alexander, Scandal
Margo Martindale, The Americans
MEJOR ACTOR INVITADO EN UN DRAMA
Alan Alda, The Blacklist
Michael J Fox, The Good Wife
F. Murray Abraham, Homeland
Reg E. Cathey, House of Cards
Beau Bridges, Masters of Sex
Pablo Schreiber, Orange Is the New Black
MEJOR ACTRIZ DE COMEDIA
Edie Falco, Nurse Jackie
Lisa Kudrow, The Comeback
Julia Louis-Dreyfus, Veep
Amy Poehler, Parks and Recreation
Amy Schumer, Inside Amy Schumer
Lily Tomlin, Grace and Frankie
MEJOR ACTOR DE COMEDIA
Anthony Anderson, black-ish
Louis C.K., Louie
Don Cheadle, House of Lies
Will Forte, Last Man on Earth
Matt LeBlanc, Episodes
William H. Macy, Shameless
Jeffrey Tambor, Transparent
MEJOR ACTRIZ DE REPARTO EN COMEDIA
Niecy Nash, Getting On
Julie Bowen, Modern Family
Allison Janney, Mom
Kate McKinnon, Saturday Night Live
Mayim Bialik, The Big Bang Theory
Gaby Hoffmann, Transparent
Jane Krakowski, Unbreakable Kimmy Schmidt
Anna Chlumsky, Veep
MEJOR ACTOR DE REPARTO EN COMEDIA
Andre Braugher, Brooklyn Nine-Nine
Adam Driver, Girls
Keegan-Michael Key, Key & Peele
Ty Burrell, Modern Family
Tituss Burgess, Unbreakable Kimmy Schmidt
Tony Hale, Veep
MEJOR ACTRIZ INVITADA EN UNA COMEDIA
Gaby Hoffmann, Girls
Pamela Adlon, Louie
Elizabeth Banks, Modern Family
Joan Cusack, Shameless
Christine Baranski, The Big Bang Theory
Tina Fey, Unbreakable Kimmy Schmidt
MEJOR ACTOR INVITADO EN UNA COMEDIA
Mel Brooks, The Comedians
Paul Giamatti, Inside Amy Schumer
Bill Hader, Saturday Night Live
Louis C.K., Saturday Night Live
Bradley Whitford, Transparent
Jon Hamm, Unbreakable Kimmy Schmidt
MEJOR REALITY SHOW DE COMPETICION
The Amazing Race
Dancing With the Stars
Project Runway
So You Think You Can Dance
Top Chef
The Voice
MEJOR PROGRAMA DE COMEDIA, MUSICAL Y VARIEDADES
The Colbert Report
The Daily Show
Jimmy Kimmel Live
Last Week Tonight
Late Show With David Letterman
The Tonight Show Starring Jimmy Fallon
MEJOR PROGRAMA DE SKETCHES Y VARIEDADES
Drunk History
Inside Amy Schumer
Key & Peele
Portlandia 
Saturday Night Live
MEJOR SERIE LIMITADA:
American Crime
American Horror Story: Freak Show
The Honorable Woman
Olive Kitterridge
Wolf Hall
MEJOR  TV MOVIE
Agatha Christie's Poirot — Curtain: Poirot's Last Case
Bessie
Grace of Monaco
Hello Ladies: The Movie
Killing Jesus
Nightingale
MEJOR ACTRIZ EN UNA MINISERIE O TV MOVIE
Maggie Gyllenhaal, The Honorable Woman
Felicity Huffman, American Crime
Jessica Lange, American Horror Story: Freak Show
Queen Latifah, Bessie
Frances McDormand, Olive Kitteridge
Emma Thompson, Sweeney Todd: The Demon Barber of Fleet Street (Live From Lincoln Center)
MEJOR ACTOR EN UNA  MINISERIES O TV MOVIE
Timothy Hutton, American Crime
Ricky Gervais, Derek Special
Adrien Brody, Houdini
David Oyelowo, Nightingale
Richard Jenkins, Olive Kitteridge
Mark Rylance, Wolf Hall
MEJOR ACTRIZ DE REPARTO EN UNA MINISERIE O TV MOVIE
Regina King, American Crime
Sarah Paulson, American Horror Story: Freak Show
Angela Bassett, American Horror Story: Freak Show
Kathy Bates, American Horror Story: Freak Show
Mo'Nique, Bessie
Zoe Kazan, Olive Kitteridge
MEJOR ACTOR DE REPARTO EN UNA  MINISERIES O TV MOVIE
Richard Cabral, American Crime
Denis O'Hare, American Horror Story: Freak Show
Finn Wittrock, American Horror Story: Freak Show
Michael Kenneth Williams, Bessie
Bill Murray, Olive Kitteridge
Damian Lewis, Wolf Hall
DRAMA-DIRECCIÓN

Game of Thrones
The Knick
Boardwalk Empire
Homeland
DRAMA-GUIÓN

Game of Thrones
Mad Men
The Americans
Better Call Saul
COMEDIA-DIRECCIÓN

Transparent
Silicon Valley
Louie
Veep
The Last Man on Earth
COMEDIA-GUIÓN

Veep
The Last Man on Earth
Louie
Transparent
Silicon Valley
Episodes
MINISERIE-DIRECCION

Olive Kitteridge
Wolf Hall
Bessie
American Horror Story: Freakshow
The Missing
The Honorable Woman
Houdini

MINISERIE-GUIÓN

Olive Kitteridge
Wolf Hall
Bessie
American Crime
Hello Ladies: The Movie
The Honorable Woman
VARIEDADES-DIRECCIÓN

The Daily Show

The Colbert Report

Inside Amy Schumer
The Tonight Show With Jimmy Fallon
Late Show With David Letterman

VARIEDADES-GUIÓN

The Daily Show

The Colbert Report

Inside Amy Schumer
Key & Peele
Last Week Tonight With John Oliver